Mattress Disposal and Donation Guide in Canada
Over 6 million mattresses are thrown away annually in Canada; each takes up about 40 cubic feet of space. Those who have upgraded to a new mattress and are looking for a way to get rid of the old one should consider doing so correctly.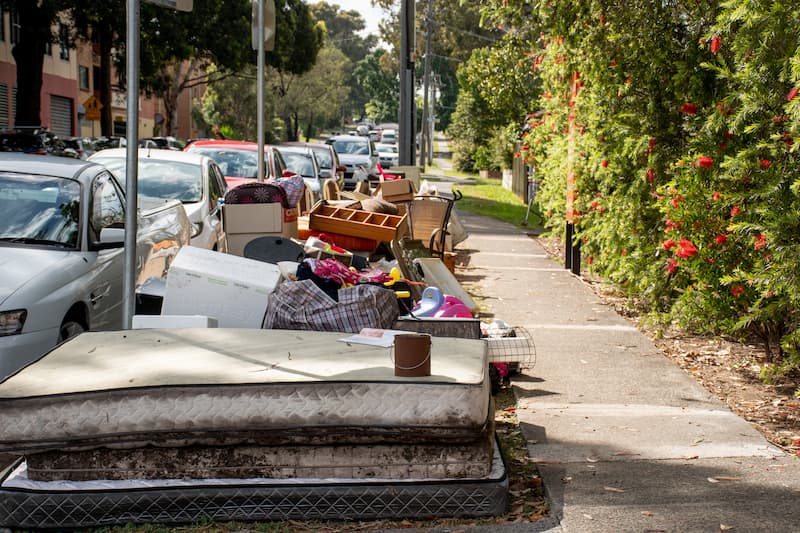 This helps reduce waste and makes better use of your old mattress.
On average, mattresses should be replaced every ten years. But this number will depend on the person and the type of mattress in question.
How often and how well you sleep on your mattress will go a long way in determining how often you need to replace it.
If you're looking for ways to dispose of your mattress properly, We have outlined many possible and organic ways to do this. Taking it to a dump site may be stressful, and leaving it on the curb will not suffice.
Here are some ideas for where to donate a mattress in 2023. There are many things you can do with old mattresses besides scrapping them.
For example, people in need or shelters for people without a permanent address can use them. Before disposing of or donating your mattress, here are some things to consider.
Check Your Mattress Warranty Before Disposal
The time frame set by the mattress companies for replacing your mattress if it becomes damaged is called the warranty. This period is usually between five and ten years, but each warranty differs.
However, checking if your warranty includes mattress removal and replacement is suitable. If your warranty doesn't cover removal, you'll have to get rid of the mattress on your own.
Research Your State's Mattress Removal Before You Dispose of Your Mattress
Mattress recycling is a no-brainer in some states, like British Columbia, Alberta, and Manitoba, which have robust laws and recycling programs to help dispose of your mattress. However, this is not the case in all states.
It is critical to conduct your research to determine whether your state has any policies in place. When you've completed your research, it's time to get rid of your mattress.
Mattress Disposal Options to Consider in Canada
The following options will suffice to help you get rid of an old mattress. Any option that's suitable for you can be leveraged. The main goal is to make sure that your mattress is thrown away properly so that you don't get fined or hurt the environment.
You Can Resell or Give Away Your Old Mattress
If your mattress is in good condition and you don't want to recycle or donate it, consider reselling it. You might not make much money, but you never know who among your friends and colleagues might need a used mattress and be willing to buy it from you.
You can also use your social media accounts to let people know you are selling a used mattress. Online marketplaces such as Facebook Marketplace, OfferUp, NextDoor, and Craigslist can be utilized. All that's required is for you to upload a photo of your mattress to one of these sites and offer a price.
You Can Recycle Your Mattress
Recycling a mattress is the best and most environmentally friendly way to dispose of it. Throwing away your mattress means it will end up in a landfill, contributing to the planet's waste. According to the Mattress Recycling Council, more than 80% of mattresses can be recycled. So, why not try recycling yours?
To find out if your mattress can be recycled, do a quick search on Google with your zip code to see if your city offers recycling services (for example, mattress recycling programs, zip code R2C 0A2).
Most mattress recycling programs will pick up your mattress for a small fee if it can be used again. Some states, like Ontario, British Columbia, and Prince Edward Island, make it easy to recycle mattresses by picking them up for free or at a low cost. The specifics, however, will vary by state.
If there are no mattress recycling facilities in your area, try these other options:
Recyc-Mattress: Recyc-Mattress is a well-known Canadian firm dismantling used mattresses and box springs. Visit their site or call them to help with your mattress recycling.
Canadian Mattress Recycling: They recycle mattresses for residents and businesses across the Lower Mainland, ensuring their environmental waste footprint is reduced.
Bye Bye Mattress: Bye Bye Mattress is regulated under the Mattress Recycling Council, and they provide recycling programs for EPR-enacted states. You can visit their site's Programs by State section to get started.
City resources: Contact the municipal offices in charge of trash and recycling in your city. Contact them to see if they have any tips on recycling a mattress.
There are some circumstances in which your mattress cannot be donated. This is true if your mattress is wet, stained, or infested with bed bugs; ripped or torn mattresses are usually acceptable.
You Can Donate It to Various Charitable Organizations and Local Businesses
If your mattress is still in good condition, consider donating it to a local charity or company that accepts mattress donations. Some businesses will pick up your mattress for free, and if you donate it, you may get a tax deduction.
You can donate your mattress to the following organizations:
The Salvation Army: The Salvation Army will provide free mattress pickup in certain areas. You can also donate your mattress to a Salvation Army location near you. It must, however, be free of rips, tears, holes, and other forms of damage. Contact the Salvation Army to ensure they will accept your mattress. Every donation is tax-deductible!
Furniture Bank: The Furniture Bank is one of the most reliable Canada solutions for mattress donation. They provide used furniture to low-income communities at little or no cost. They frequently accept mattresses in good condition. If you live within a 20-mile radius, they may be able to come and pick up the mattress; make sure to call ahead of time.
Donation Town: Donation Town is a fantastic online resource for finding local charities. All you need to do is enter your zip code and contact local charities.
Habitat for Humanity: Habitat for Humanity is the resident owner of the ReStore thrift store chain. Some organizations will accept mattress donations and may even provide mattress pickup.
Goodwill: There are 162 Goodwill stores in the United States and Canada. If your mattress is in good condition, some places will take it off your hands. For more information, contact your local Goodwill.
Catholic Charities: Catholic Charities runs shelters and housing programs all over the United States that could use used mattresses. Visit their website to find programs near you.
Another possibility is to contact local businesses. Check with local hotels, hospitals, universities, thrift stores, and homeless shelters to see if they need an old mattress. You can always ask where they recycle their mattresses if they don't require one.
You Can Repurpose Your Mattress For Decor and Other Home Projects
You can disassemble your mattress and box springs if you enjoy engaging in many DIY home projects. Steel, polyurethane foam, memory foam, latex foam, natural fibers, wooden parts, nails, screws, and other valuable materials can be found in mattresses.
The materials can be used for a wide range of purposes, including:
Recycling the Component Parts: Extract the springs and steel from your mattress and sell them to scrap metal recyclers or local scrap yards. Cotton, wool, silk, polyester, and rayon are all recyclable materials in mattresses.
Gardening: Disassemble your mattress and use the wooden parts for gardening. When shredded, the wood makes excellent lawn mulch. You can also make a compost bin out of the wooden slats.
Home projects: The cotton and foam in your old mattress can be reused for various purposes around the house. They can be shredded and recycled to make carpet padding, insulation, filters, seat cushions, pet bedding, pillows, and other items.
Arts and crafts: The fabric that covers your mattress can be cut into small pieces and used as cleaning sponges, and memory foam padding can be cut into small pieces and used as cleaning sponges. Your mattress also contains screws and nails that can be used for arts and crafts.
Decor: Your mattress's coils and springs can be broken down and used to make plant and candle holders, ornaments, bird feeders, and other things.
You Can Throw Your Mattress in The Dumpster
If you've tried everything else and can't recycle, donate, resell, or find another use for your old mattress, the only thing left to do is throw it away. That doesn't mean you should leave it next to your dumpster.
Many cities and states have specific rules and regulations regarding mattress disposal. Leaving a mattress in the trash is illegal in many cities and can result in a ticket or fine.
Throwing a mattress in the nearest dumpster or land mine might be legal in some places, but check first. It may be necessary to place the mattress inside a plastic bag to dispose of it in certain cities. It's always a good idea to check your local laws before disposing of your mattress.
Conclusion
Disposing of your old mattress should be a manageable task for you. With the many options available, you can dispose of your mattress and still see the many values it can provide to others and your home.
Apply the options outlined in this guide when you consider replacing your mattress.